RICARDO Digital Slow Cooker, 6 qt (5.4 L)
Free shipping
in Canada on orders of $ 99 or more
About
This slow cooker is the must-have kitchen appliance for every busy family. The size of this slow cooker is perfectly adapted to RICARDO recipes. Once cooking is done, it automatically switches to the Keep Warm setting. The ceramic pot is easily removable and is dishwasher safe.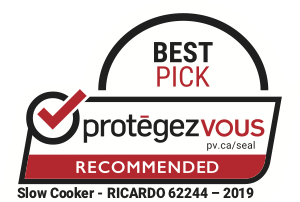 Specifications
Stainless steel exterior finish
Tempered glass lid
Capacity: 6 qt (5.4 L)
3 heat settings: low, high and keep warm
Programmable electronic timer to set cooking time from 30 minutes to 12 hours
Transfers automatically to the Keep Warm setting once cooking is finished
Digital countdown timer
The ceramic pot is easily removable and is dishwasher safe
Made for North American electrical outlets (240W 120V)
Note:

(18)
Add your review
pourquoi le contour du plat reste blanc apres le lavage
Bonjour Madame Leboeuf, nous vous avons envoyé les procédures par courriel afin de mieux pouvoir vous répondre. Merci et bonne journée ! :)
Bien contente de ma nouvelle mijoteuse , elle fonctionne super bien.
La mienne aussi a un couvercle qui boite, mais ca ne semble pas trop poser problème. Par contre, est-ce possible d'utiliser le plat et le couvercle au four, comme un cocotte?
Bonjour Sylvie, tel que mentionné dans le guide d'utilisation: "Le pot en grès a été conçu seulement pour être utilisé avec cet appareil. Il ne devrait jamais être utilisé sur une cuisinière, un brûleur au gaz ou un élément électrique, ou dans un four chauffé. Il pourrait se fissurer et cela pourrait provoquer des brûlures s'il y a des liquides chauds ou de la nourriture à l'intérieur. Merci!
je l adore et mes livres de mijoteuse aussi
Question J'aimerais savoir est ce possible de préprogrammés la mise en marche exemple Je part travailler le matin et je programme pour qu'elle démarre à midi
Bonjour Michael, merci pour votre question. Non ce n'est pas possible de programmer le démarrage de l'appareil et nous ne recommandons pas d'utiliser une prise spéciale le permettant. Merci!
je suis tombée avec le plat en céramique. et il a cassé, possible de le remplacer?
Bonjour Josée, j'espère que vous n'êtes pas blessée. Je vous invite à communiquer avec le département de la garantie, ils possèdent certaines pièces de remplacements dont le récipient de la mijoteuse. Vous pouvez les rejoindre au 1-866-226-9222. Merci!
Non programmable et couvercle bascule donc non étanche et fait diminuer le liquide durant la cuisson. Besoin de surveillance accrue pour certaines recettes. Rapport qualité/prix moyen.
J'utilise cette mijoteuse depuis plusieurs années et j'en suis très satisfaite! Elle est facile à régler, pas de "taponnage" avec plein de modes et de boutons. Un bon achat qui va vous durer longtemps!
Est-ce normal que le couvercle bascule lorsqu'il est sur le plat et donc, laisse passer la chaleur?
Bonjour CB, il est normal que le couvercle ne soit pas complètement étanche, cela ne change en rien la performance du produit. Le récipient étant en céramique artisanale cuit de façon inégale. Merci!
Est-ce possible de régler la mijoteuse pour qu'elle décolle a une heure précise dans la journée?
Bonjour Py, merci pour votre question, ce réglage n'est pas possible. merci!
Bonjour, le plat en céramique a "craqué" pendant la cuisson, je ne sais pas pourquoi. Es-t-il possible de s'en procurer un?
Bonjour Marie-Claude, oui absolument veuillez communiquer avec le département de la garantie au 1-866-226-9222. Merci!
Après à peine 30 minutes de cuisson la mijoteuse se ferme seule. J'ai pourtant bien suivi le guide d'utilisateur.. à n'y rien comprendre.. une recette de gaspiller
Bonjour, je vous invite à communiquer avec notre service à la clientèle au 450-465-4101. Merci.
Je ne pourrais plus en passer de ma mijoteuse! Elle est très pratique! Merci beaucoup!
Je l'ai retournée. Le couvercle laissait un très grand jour avec la base. J'ai été l'échangée, mais c'était à peu près la même chose sur les 4 autres boîtes que nous avons ouvertes. J'ai écrit un courriel pour expliquer le problème mais je n ai jamais eu de retour de leur part. Bref, la qualité était vraiment douteuse. J'étais très déçue.
Très bon rapport qualité-prix ! Cet appareil est très facile à utiliser et la fonction « réchaud » est particulièrement appréciée. En plus, le manuel d'instruction contient des recettes Ricardo. Super pratique !
Bonne capacité pour le plat de céramique. Le couvercle bascule et n'est pas suffisamment étanche, donc laisse passer la vapeur ce qui diminue la quantité de liquide indiquée dans la recette. Il faut surveiller davantage pour que le liquide nécessaire dure le temps qu'il faut ou en ajouter au besoin. Je crois que le couvercle devrais être barré pour éviter ces inconvénients et augmenter la sécurité de la mijoteuse.
Très heureuse j'ai acheté quatre mijoteuses pour mes trois filles et une pour moi. Un cadeau à faire mes filles font les recettes à toute les semaines il m'ont dit que ces un cadeau merveilleux faite plaisir ont peuxcplua sans passer.